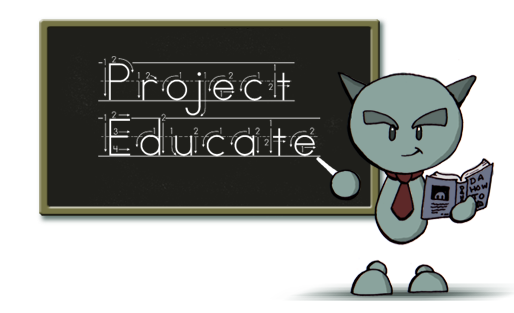 Introducing Project: EDUCATE!
A few Weeks ago
Moonbeam13
hinted to a secret project that "has the potential to change your deviant experience. Bring you knowledge that can increase your potential. Be fun and exciting and a chance to WIN stuff.". Well....here it is! The AR team is extremely excited to bring you Project: EDUCATE!
What is it?
Project: EDUCATE is an initiative from the Artists Relations team to build gallery knowledge, raise community awareness, promote interaction, and most importantly share information.
How's it going to work?
Keep an eye on the news and your Gallery Directors journals! There will be contests, featured chats, news articles, interactive activities, and great information. We will have "A deviants' Guide to Community Involvement", dA related tutorials and tools, tricks and information on how you can grow and develop as an artist.
Spotlight on Galleries
In addition to the site wide activities, in the coming months you will find the spotlight on different galleries around deviantART. A week long focus on the genre, with fun, info, contests, and a Chat with the Gallery Director(s), where you can ask questions, give input and get involved!

Gallery Spotlight Line Up

Gallery Spotlights in the coming weeks:

October 29th - November 3rd - Anthro Gallery

November 5th - 10th - Comics and Cartoons

November 12th - 17th - Photojournalism

November 19th - 24TH - Fetish
and many more scheduled for the weeks after!
Did You Knows
Each week there will be a "
AR: Did You Know?
". This will be a quick reference point for tidbits the Artist Relations Team need everyone to know. Not a long boring article, but concise Question and Answer sheet. We're very excited about this!
Scavenger Hunt, Mates!
Check out
shell4art
's
AR Scavenger Hunt
! A fun contest to kick off Project: Educate! Follow this
link
to find out more info!
What YOU can do to help
EDUCATE is not only going to involve the volunteers and staff, but it will be deviant driven as well. What can you do to help?

Promote Project: EDUCATE by using the stamp
mistresswit.deviantart.com/art…

Have an Educational article you want to write? Maybe an activty instead of an article? Note
MistressWit
with your concept and be an active part of the project!

Attend the Featured chats with the Gallery Directors and have you voice heard! Make suggestions, share thoughts, and ask questions!

Participate participate participate!
Stay tuned next time for "EDUCATE: AR Mantra and Identity"